I met Eilonwy in early summer 2003. Sometime during those early few years of our friendship, she recommended the
Shadow Children series by Margaret Peterson Haddix
.
Last week, I finally got around to wanting to read it. No idea why it took me this long. It wasn't in my library, so I reserved a copy of the first book,
Among the Hidden
, at my local public library.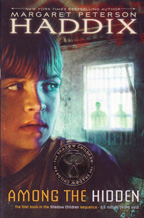 I picked it up Tuesday afternoon. I finished it Wednesday night. Thursday afternoon, at work, I was unpacking the eight boxes of books that need to be cataloged and added to my library. These boxes have been in my office for approximately a month. Being a solo librarian is no easy task, y'all.
In the third box, I found a copy of
Among the Hidden
and the fourth book. I immediately emailed Eilonwy to tell her of this irony and then went back to unpacking the boxes. Turns out, my library has the third book and the rest of the series has been sitting in my office for weeks now.
I may have brought the second and third books home with me over the weekend. Being a librarian has its perks!