One of the many things Blake and I love about Virginia is how much history has happened there. Historical markers are everywhere and it was normal to pass them almost everyday. During our time there, we visited many historical places, both popular (
Mount Vernon
, monuments, the
Library of Congress
) and not (
President Lincoln's summer cottag
e, George Mason's home - Gunston Hall).
One important place we had not yet visited was the Historic Triangle in Virginia - Williamsburg, Jamestown, and Yorktown, so we made sure to rectify that before we left. I had been to Williamsburg for a
library conference last year
, but I didn't do much touring around.
In May, I went on a field trip with the fifth grade girls to Colonial Williamsburg. At first, I hesitated, because Blake and I had wanted to go together, but it ultimately became useful as a scouting and planning trip before the family trip. Plus, it's a different experience to go as solo adults than as an chaperone to a passel of ten-year-olds.
In the end, we actually went down twice. For my birthday, we had been given a VIP experience to
The Mystery Dinner of Williamsburg
. Basic ticket includes dinner and the show, the VIP comes with a mug and extra bribe money when you're trying to interview the actors and solve the crime. It was kind of cheesy, but in a really good way. Blake even got to participate in the show! We got a pet-friendly hotel for the night, so Malcolm came down with us (though not to the dinner). We also found a nice little hike around the area to take him on.
Later in the summer, we made a three day trip of it. We went back to the same pet-friendly hotel, stayed off the interwebs, and enjoyed our last American vacation. We especially enjoyed that everything was, to some degree, dog-friendly, so Malcolm came with us! Sometimes we would have to trade off going into a museum, but it was worth it. Now, I don't recommend road trips in Virginia in late July without air conditioning the car, but at least all our trips to Sonic for beverages were well-justified.
The first day, we started with
Historic Jamestowne
. There's a nearby Jamestown Settlement that is a recreation of the original, but Historic Jamestowne is the actual location. We walked around and checked out original foundations of homes and churches and other buildings, as well as the general layout of the place. There was a little museum, which included an exhibit about the recently confirmed cannibalism at Jamestown. Yikes!
Up the road a little was Yorktown Battlefield. Of course we cued up The Battle of Yorktown from Hamilton to listen to while we did an abbreviated driving tour. We could have spent longer there, but as I mentioned earlier - no A/C.
Lafayette's cannon!
Our second day we spent at the beach. Last year, we discovered First Landing State Park - a quiet, dog-friendly beach, which we like quite a bit. This time, we thought it really cool that an aircraft carrier sailed by on its way to Norfolk. Malcolm really got into swimming (he got increasingly confident every time we've been to that beach) and digging in the sand. We also appreciated the one hour drive back to our hotel, instead of the three hour drive all the way back home.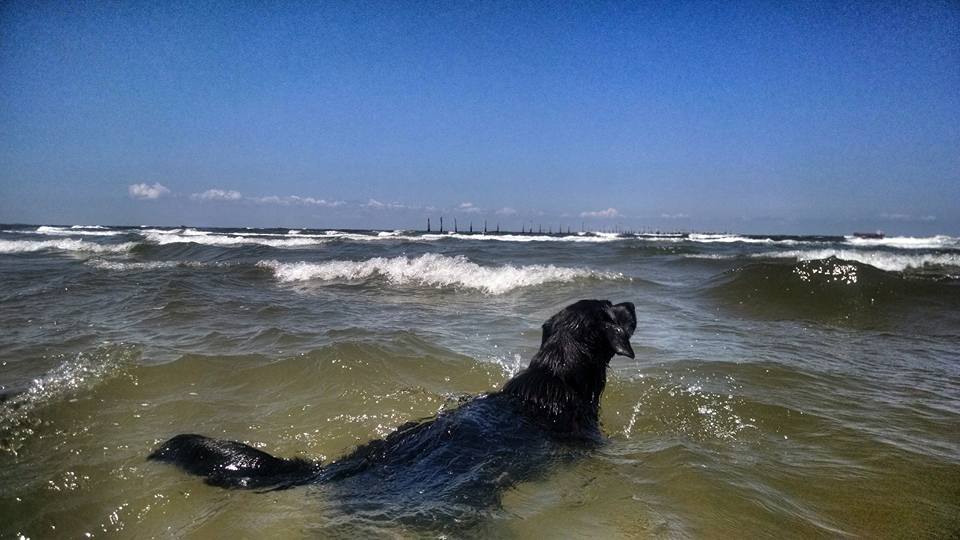 This photo, taken by Blake in 2015, won Malcolm a free pass to a dog day swim at our local water park in September.
On our final day, we walked around
Colonial Williamsburg
, which we got into free as a military family! That saved us about $100! They have lots of interesting shops, exhibits, presentations, homes, and more to check out. We traded off with Malcolm going inside the places that interested us most, and managed to see most of it in the one day we had.
Hamilton was here! Or at least this is what it would have looked like.
I feel like Heidi would love working in a place like this.
It was a lovely little trip. Blake reported for duty about a week later, so it was the perfect way to cap our time in Virginia together.